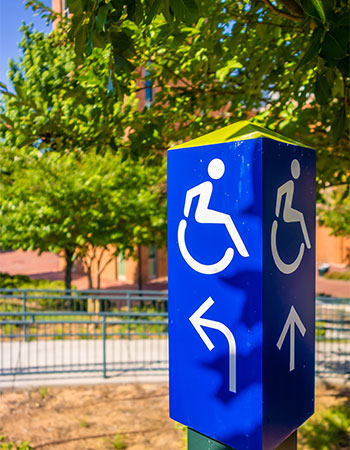 Related Products
We'll help you connect the dots so people never get lost or confused. Trust us to follow your direction on your next project.

Both your indoor and outdoor signs are a direct reflection of who you are as a brand. Partner with us to reach your business goals.
Get a Quote!
We'll also work with you to ensure that your signs meet the rules and regulations of the ADA, including proper font size and usage, spacing requirements, proper backgrounds (non-glare, for example) and Braille dot size and spacing.
Signs for outdoor accessibility allow you to:
Identify parking spaces
Note wider walkways
Label passenger loading zones
Mark entrances and exits
Provide directions to the nearest accessible facility
With indoor accessibility signs, you can:
Point to elevators and hoistways
Identify restrooms
Designate volume-control telephones
Mark permanently designated rooms and spaces
Are there other business signs you're looking for? We can equip you with a vast array, from lobby to wayfinding to safety signs. Check out all the ways we can take care of your business sign needs and get in touch with us today.